Driving Safety programs aimed at Teen Drivers like to keep things memorable – as we are trying to make an impression on the students that they will remember and understand. One such method is employing a familiar term in new ways. We like to use "The 4-D's" as an easy way to remember the four dangers, in the form of Impairments, a driver can face when they get behind the wheel: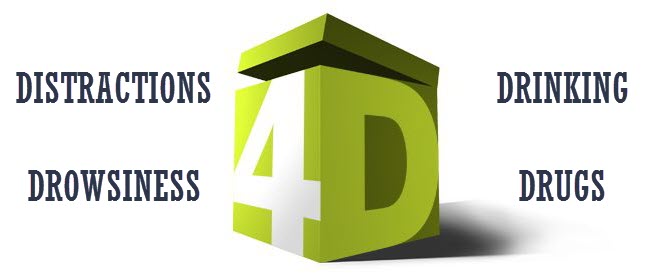 DISTRACTION is the most worrisome impairment, and the focus of this topic. Distraction affects the abilities of ALL Drivers, not just Teen Drivers, to be safe drivers. This is a very serious and common risk factor – and we will devote a fair amount of time to this Topic.
Long before today, all drivers were being distracted by:

Roadside signs and objects – advertising, buildings, activities and pedestrians.
Radios – needing tuning in that "fuzzy" station and using our "CB" to find those "Smokies"
Eating and Drinking – Behind the wheel dining was different in the days of manual transmissions, and no cup holders.
Passengers – from the day the first automobile took to the roadways, there was almost always at least one more seat to accommodate them.
There have been and will continue to be, many sources of distractions for all drivers, Adults and Teens alike.
Impact Teen Drivers shares with us, Donovan's story. This is a true story about the deadly consequences of reckless and distracted driving. Donovan was a star football player, standout student, and great friend who loved to spend time with his family. His life was cut short because of the deadly consequences of reckless and distracted driving and not speaking up when in dangerous situations.
Today's drivers also need to be aware that the other drivers on the road are also vulnerable to distraction. To close this discussion of Distracted Driving, we will share Jacy Good's story.
We can not emphasize this enough. DISTRACTION IS DEADLY FOR DRIVERS (and their passengers, other drivers, pedestrians, highway and public safety workers…)