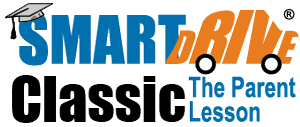 PARENTS – DO NOT BEGIN THIS LESSON UNTIL YOU HAVE RECEIVED YOUR STUDENT'S COURSE COMPLETION CERTIFICATE. THIS CERTIFICATE IS SENT TO YOU AS A PDF ATTACHMENT AFTER YOUR STUDENT'S COURSE COMPLETION HAS BEEN ACCEPTED BY DELAWARE DEPARTMENT OF MOTOR VEHICLES.

There are eight topics in The Parent Lesson. This lesson is intended as a brief review of the materials covered with your Teen Driver in their three SmartDrive Classic lessons. The Parent Lesson will require 60-75 minutes to complete.
Your Teen Driver is encouraged to work with you to complete The Parent Lesson, so that you may discuss the topics covered.
The Parent Lesson must be completed for your Teen Driver to be eligible to submit an essay for the SmartDrive scholarship competition.