Online and Hands-On Training to demonstration the impact of Distracted and Impaired Driving
The Distraction and Reaction program helps to drive home the dangers of distracted driving and impaired driving in a meaningful way.
Using a self-paced online component, combined with a film, 'Driven to Distraction II", created by DuPont's Coastal Films and donated exclusively to SmartDrive, we teach participants about the science of distracted driving.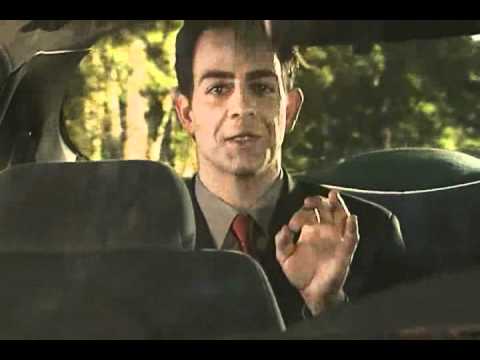 Hands-on experience as they maneuver our SmartCart
Then, SmartDrive gives young drivers a hands-on experience as they maneuver our SmartCart through a coned course as trained instructors purposely distract them with questions of a basic nature, delivered with a twist, during the their first lap on the course. The student then repeats the course without distraction from the instructor – and the times for the two laps are compared – frequently with a large difference that reinforces the message to Drive without Distraction.  Students also learn important hands on backing up skills in addition to the dangers of driving while distracted.
This activity typically requires  5 to 8 minutes per student – limiting the activity to a maximum of 12 students per hour.
The Smart Pedal Karts challenges the driver to take on a looping course wearing Impairment Simulation Goggles
In parallel with the SmartCart distraction activity, we have additional vehicles, the Smart Pedal Karts, where we challenge the driver to first take on the course wearing Impairment Simulation Goggles (alcohol or marijuana).  This is timed as well, and the rider then repeats the course without the Goggles – once again to reinforce how much better a driver will perform when sober versus being impaired.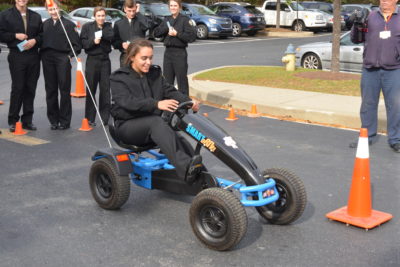 This program is safe, fun, and most importantly, educational.
We raise awareness by providing hands-on experience, that distracted or impaired driving is not safe in any circumstance, and reminders that impaired driving is against the law, often with strict penalties. Driving without impairment – whether it be distraction, drink, drowsiness or drugs – is the SmartDrivers way to go.
An outdoor space, which is fairly level, of approximately 75' x 75' is required. We do not run Distraction and Reaction in inclement weather.
WANT TO OFFER THIS PROGRAM TO YOUR GROUP?
SmartDrive will partner with organizations to adapt the program to fit whatever venue is available – health classes, driver education classes, assemblies, or community days. The program delivers results and raises awareness like no other program can. It is an ideal program to offer during Prom season or at the beginning of the school year to make a critical impression on young drivers who already hold a driver's license.
Call SmartDrive at 888.553.6543 or send email to info@smartdriveusa.org to make arrangement for a SmartDrive Distraction & Program for your group.