Lesson 1 – Topic 4
Decisions and Road Rules
Clearly, when you are in the driver's seat, the decisions you make can change the course of your life and the lives of EVERYONE around you.
Your decisions, your actions, your passengers are 100 percent YOUR RESPONSIBILITY. In a heartbeat, your future, and the future of your passengers, family, friends can change dramatically, or even stop entirely as a result of a decision or indecision.
Passengers can distract the driver. Passengers can physically interfere with the driver. Passengers can restrict the driver's freedom to maneuver aggressively for accident avoidance. Passengers can injure themselves by not sitting properly in designated seating positions. Whatever the case, the driver must manage the passengers to avoid such problems. This is not always easy to do, but it is critical to a safe drive.

CREDIT: Rebekah Smith, Standard YouTube License
– Establish your own set of ROAD RULES regarding noise and activity levels, the radio or other vehicle equipment such as the GPS, climate system, windows or sunroof.
– Be respectful but CLEAR, that the car is your domain and respect must be mutual, road rules observed or you will not transport the passenger.
Limit Passengers
When a Teen Driver holds a permit or Graduated Driver License (GDL) in many states, rules limit the numbers of passengers you may have in the vehicle.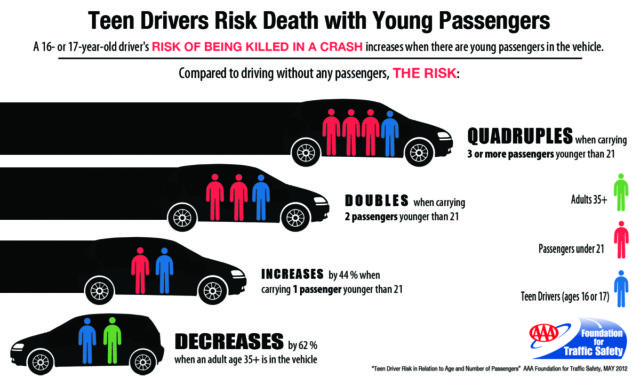 CREDIT: AAA Foundation for Traffic Safety
Once a full license is granted, however, you may transport as many people as you have seat belts to restrain them. Remember, just because you can do it does not mean you SHOULD do this.
– Transport only as many passengers as is necessary. Packing the car with people makes for a lot of noise and distraction. Don't transport more than you can safely handle or feel comfortable driving.
– NEVER transport people or animals in the bed of a truck